Viva has been named the North's Small PR Consultancy of the Year 2019 by industry body the PRCA.
The Rawtenstall-based agency landed the prize at the PRCA DARE Awards in Manchester, which celebrates the work of public relations firms across the region.  Judges praised the firm's ethos and vision and predicted a bright future for Viva.
Managing Director Tony Garner said:
"We strive to deliver tangible results for our clients, be fair to our suppliers and make Viva a great place to work. This award means a lot because it come from our peers and underlines my belief that you don't have to be city centre-based to be the best. Our motto is 'small but fierce' and we've proved it works."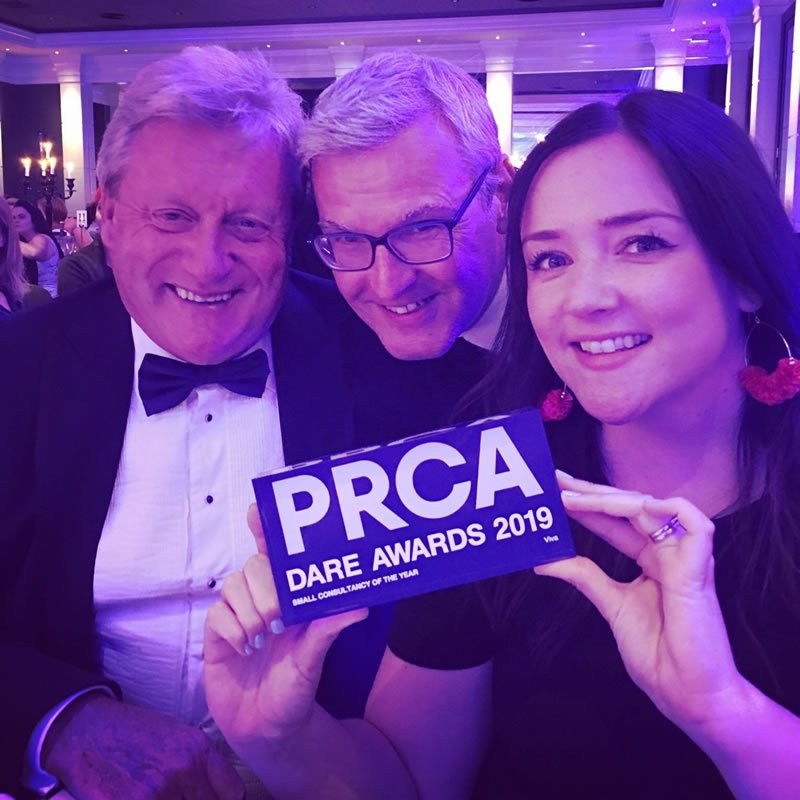 Alan Simpson, Tony Garner and Hannah Monaghan from Viva with their award
Established in 2002, Viva works with advanced manufacturers, local authorities, charities and the education sector. 2019 has been one of the consultancy's best ever, thanks to a series of new business wins which has seen turnover grow by over 25 per cent.
The company also believes in looking after its staff as well as its clients. Viva has introduced a number of measures to improve the physical and mental wellbeing of staff including weekly workplace yoga sessions, standing desks, a daily 20 minute 'walk out' break to encourage screen breaks and exercise, two office dogs and time off work to volunteer for good causes.
Tony added:
"Our clients range in size – but our results-focused approach ensures that our work and creativity makes a difference to them – whether they are looking to win new business, sell more stuff or attract new staff."
Viva is currently expanding and is looking for an account executive and an intern to join its award-winning team. For more details visit www.vivapr.co.uk/join-us-careers/